Member Spotlight
PLSC would like to introduce you to our members. If you would like to submit your photo and information for a future Spotlight, email the information to plsc@plsc.net.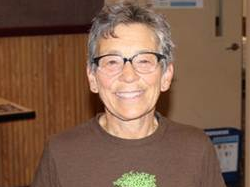 Peggy Streicher
is the Survey Office Tech Supervisor at Denver Water. She graduated from Denver Institute of Technology's Survey & Mapping program in 1992 and became a licensed surveyor in 2000. Since then she has worked in the Denver metro area, the Central mountains and Pagosa Springs. She began working at Denver Water in 2008. In 2011, Peggy earned a Graduate Certificate in Geographic Information Systems at University of Denver.
Peggy served on the Board of Directors of the Central Chapter of PLSC in 1994-1997. She has been on the planning committee for GIS in the Rockies for the past 4 years. Peggy has been an active member of Denver Water's Wellness committee with responsibility for the Lunch and Learn programs. Peggy is an avid sports enthusiast, enjoying skiing, biking, swimming and hiking. She lives in SE Denver with her partner and chocolate lab, Kiko.