News
COFPAES/NSPS promotes benefits of professional licensure
Posted September 18, 2014
The Council on Federal Procurement of Architectural & Engineering Services (COFPAES), of which NSPS is a member, has written the Chairman of the Small Business Committee in the U.S. House of Representatives, Rep. Sam Graves (R-MO), explaining the rationale and history of licensure of architects, engineers and surveyors. The COFPAES letter is in response to a request Rep. Graves has made to the Small Business Administration's office of advocacy to conduct a study of the economic impact of such state licensing regulations. Critics have pointed out that states now license an increasing number of occupations, some of which have little impact on public health, welfare and safety, and serve only to limit competition in the marketplace. The COFPAES letter points out that public health, safety and welfare benefit from architecture, engineering and surveying licensure.
Georgia Museum of Surveying Mapping Faces Closing
Posted September 15, 2014
Georgia Museum of Surveying Mapping Faces ClosingThe Georgia Museum of Surveying and Mapping (GAMOSAM), located in Warrenton, GA, faces closing in the very near future unless a new home for the museum is located very soon. The museum was started in the late 2000's by Mr. Dan Crumpton, a local historian, land surveyor and forester in Warrenton, GA. Dan has always had a passion for the history of the land surveying profession, and he has directed this passion into the creation of this museum. The museum was officially incorporated in 2009 and a board of directors was established at that time. The museum is currently housed in a store front in downtown Warrenton, GA, and has well over 100 valuable survey related artifacts. These artifacts include a wide range of items, including antique land surveying equipment, computers, plotters, maps, etc. Most of these artifacts were donated to the museum from land surveyors throughout the state of GA.Mr. Crumpton has announced his impending retirement from land surveying and from the museum to the museum's board of directors and has expressed his strong desire to hand off the museum to another person or entity for care and management. The Board and Mr. Crumpton are seeking someone to house and manage this museum, preferably within the state of GA. This museum is a valuable asset to our profession and our state and would have a bright future if it were to be kept together and managed appropriately. The museum's board of directors is seeking ideas for possible locations for the museum. We are asking all land surveyors within the state to please consider your community and local resources and let any member of the board of GAMOSAM know if you or someone in your community are interested in housing this museum. If we are not able to locate a new home for the museum by early 2015, we will likely lose this asset to our profession and state forever!If you are interested in this opportunity, or if you know a person or entity that may be interested, please contact Mr. DanCrumpton directly via phone at 706-465-9919 or via email at dan@crumptonplats.com.
GeCo in the Rockies - GIS: Bridging the Divide 2014
Posted June 30, 2014
September 22-26, 2014 * Grand Junction, COwww.gecointherockies.orgCombined Conference: GIS in the Rockies & GeCo WestJoin us for the premier geospatial technology event of 2014.GeCo in the Rockies will feature 4 full days to learn, explore, network, and share, including 2 days of trainings and workshops and 2 days of presentations and posters. The conference features an Esri Hands-on Learning Lab; many networking events, including GeCo-X - the premier kick-off event highlighting short, focused, talks about the changing technology landscape; a Student and Career Exploration Breakfast; and a Technology Panel, with innovators and leaders addressing the topic "The Future of GIS."
Read More >>
Classified Ads
Member Spotlight
PLSC would like to introduce you to our members. If you would like to submit your photo and information for a future Spotlight, email the information to plsc@plsc.net.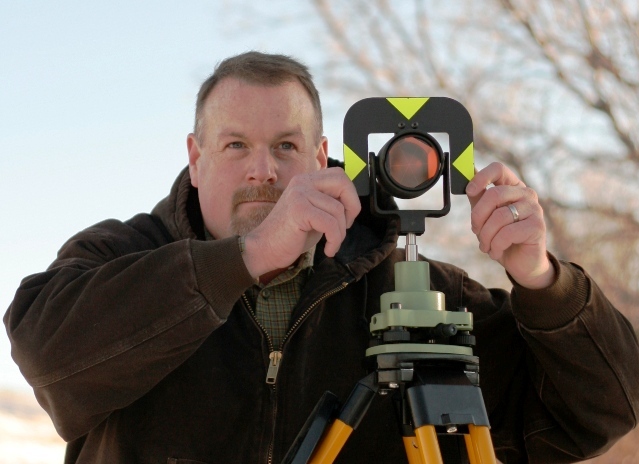 Steve Parker, PLS
, began his surveying career in 1989 working underground in coal mines while completing a Bachelor of Science in Geology at Fort Lewis College. He continued surveying while serving in the Army as a Mortar Battery Commander. He returned to civilian life in 1999 and became a surveyor for a private firm in Oregon, during which time he earned a boundary law certificate from Oregon State University, before moving back to Colorado.
Since relocating to Colorado Springs, Steve has become a licensed professional land surveyor and a certified floodplain manager. He is active in the Professional Land Surveyors of Colorado and serves as president of the Southern Chapter. He recently completed a graduate certificate in Geographic Information Systems from the University of Denver. Steve has put his knowledge of surveying and GIS to work for large and small scale surveying companies, specializing in control/geodesy, topographic mapping, and right-of-way. He now works for Farnsworth Group in Colorado Springs where his job is focused mainly on Colorado Department of Transportation rights-of-way, and he is always looking for better ways to use GIS to deliver surveying information.