News
Dedication for the Replacement Bronze Donor Plaque at the 6PM Initial Point
Posted July 09, 2019

The dedication for the replacement bronze donor plaque at the 6PM Initial Point was held on June 22. Surveyors in attendance represented three of the five 6PM states. Including a group of interested people, there were around 25 people at one time who came to the site. The forecast of rain along with uncertain road conditions prevented many others from attending. When the manhole lid was removed, nearly the entire hole containing the stone and brass disk was full of water which had to be bailed out. The concrete pad surrounding the monument was cleaned off and the cracks were sealed. Concrete joints in the areas around the donor plaque and obelisk were also sealed. Attention was given to the 1935 triangulation station and its associated marks since they had been neglected (See attached pdf). Those attending discussed the future needs at the site which will be made known when cost estimates are secured.
Stakeholder Meeting - July 16, 2019
Posted June 28, 2019
The State Board of Licensure for Architects, Professional Engineers and Professional Land Surveyors will hold a stakeholder meeting to receive input regarding the proposed amendments to Rules 4.6.5 (Short-Term Duration Employment Not Counted) and 4.8.1 (Applicants Must Receive Board Approval to Take an Examination). A summary of the changes being considered is included in the attached Notice.Draft Rules* A copy of proposed changes is available for download.Meeting Information* Tuesday, July 16, 2019, 9:00 a.m. (MDT)Three Ways to Participate* In Person: Civic Center Plaza, 1560 Broadway, Room 110D (1st Floor), Denver, CO 80202* By Webinar: Register Here: https://register.gotowebinar.com/register/4239942636306380547?utm_medium=email&utm_source=govdelivery* Submit Comments: Oral comments will be taken from participants who are present in-person or participating via webinar. If you cannot make the meeting in-person or wish to make written comments rather than speaking, you may email your written comments to: dora_dpo_rulemaking@state.co.uson or before Monday, July 15, 2019.Meeting FormatStakeholder input will be limited to a discussion of the specific rules listed in this notice. The Board needs your help to identify how the proposed rule amendments will affect consumer outcomes, positively or negatively. The Board will use your feedback to assess if the rule amendments are necessary and reflect the Division's mission of consumer protection without unnecessary regulatory barriers. Written and oral comments will be available for the Board to consider prior to beginning the formal rulemaking process. Staff will identify your comments as information received in anticipation of the Board deliberating the proposed amendments. If you have any questions or concerns about stakeholder input, please send them to dora_dpo_rulemaking@state.co.us.
Provide your feedback on State Plane Coordinate System
Posted May 31, 2019
Colorado provide your feedback on State Plane Coordinate System Options for Colorado before it's too late. The deadline to submit feedback to the Colorado Geodetic Working Group is August 31, 2019. If you work in Survey or geospatial, we want to hear from you. We encourage all to participate; even if you have provided feedback to us in the past. This will be the final outreach opportunity to submit feedback on what YOU want the Colorado State Plane Coordinate System to look like for 2022 before Colorado submits their plan to the National Geodetic Survey. Please share the link to participate in the survey to those that may not otherwise see this posting. You do not need to be a PLS to participate. If you are unfamiliar with the State Plane Options, please review the article in the May 2019 edition of Side Shots titled "2022 Colorado State Plane Coordinate System" on pg. 19. Or email questions to NGS.Colorado@gmail.com. https://docs.google.com/forms/d/e/1FAIpQLSddgpmMKKaYsVdVin5NLcqZ-4Pl-p7xSgvyLcqN0oDqOjXlyg/viewform
Read More >>
Change in Examination Process for Land Surveyors
Posted May 02, 2019
National Council for Examiners for Engineering and Surveying has announced that starting May 15, 2019, applicants wishing to take the exam for engineer or land surveyor enrollment or licensure should contact the vendor, the National Council for Examiners for Engineering and Surveying (NCEES), directly. The Division of Professions and Occupations will no longer pre-approve applicants for the exams. Please note that the required qualifications are not changing, only the application process.Between May 1-14, 2019, the Division of Professions and Occupations will not accept any applications for engineer or land surveyor enrollment or licensure in order to prepare for this transition. The on-line applications will not be available during this time, but updated applications and instructions will reflect the new process and be posted on May 15, 2019.As licensees, educators, employers and other key stakeholders, you have direct contact with the students and professionals who may need to know about this change. We appreciate any efforts you can make to spread the word, so students and professionals know the correct path to licensure and do not encounter unexpected delays. Questions should be directed to Renee Wunsch, Licensing Supervisor at renee.wunsch@state.co.us. Thank you for your assistance.
Classified Ads
PLSC Events
The SW Chapter of the PLSC will be having our next meeting on July 16th from 6:00 - 8:30 PM...
Member Spotlight
PLSC would like to introduce you to our members. If you would like to submit your photo and information for a future Spotlight, email the information to plsc@plsc.net.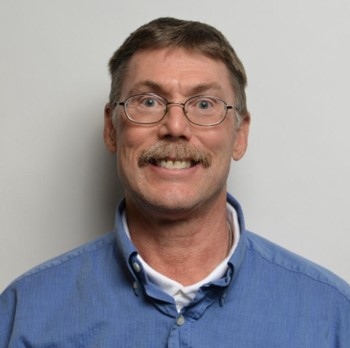 Thomas Breitnauer is a Professional Land Surveyor for the Denver International Airport Survey Section. He has been involved in land surveying since 1985 and is experienced in all types of land surveying. Thomas is licensed in the States of Colorado (1994) and Arizona (2004). Since the introduction of Global Positioning Systems (GPS) to land surveying in the mid-1990's, Thomas has learned how to set up control networks, process fast static sessions and establish strict quality-control procedures for verification of data content and position. This experience is now benefiting Denver International Airport with the establishment of their own Virtual Reference System (VRS) and seasonal monitoring of Primary Airport Control.
Thomas is trained in the following programs; National Geodetic Survey (NGS) OPUS Projects, Trimble Business Center and Autodesk Civil 3D. Thomas attended Colorado State University from 1978 to 1981 and the University of Idaho from 1981 to 1982.